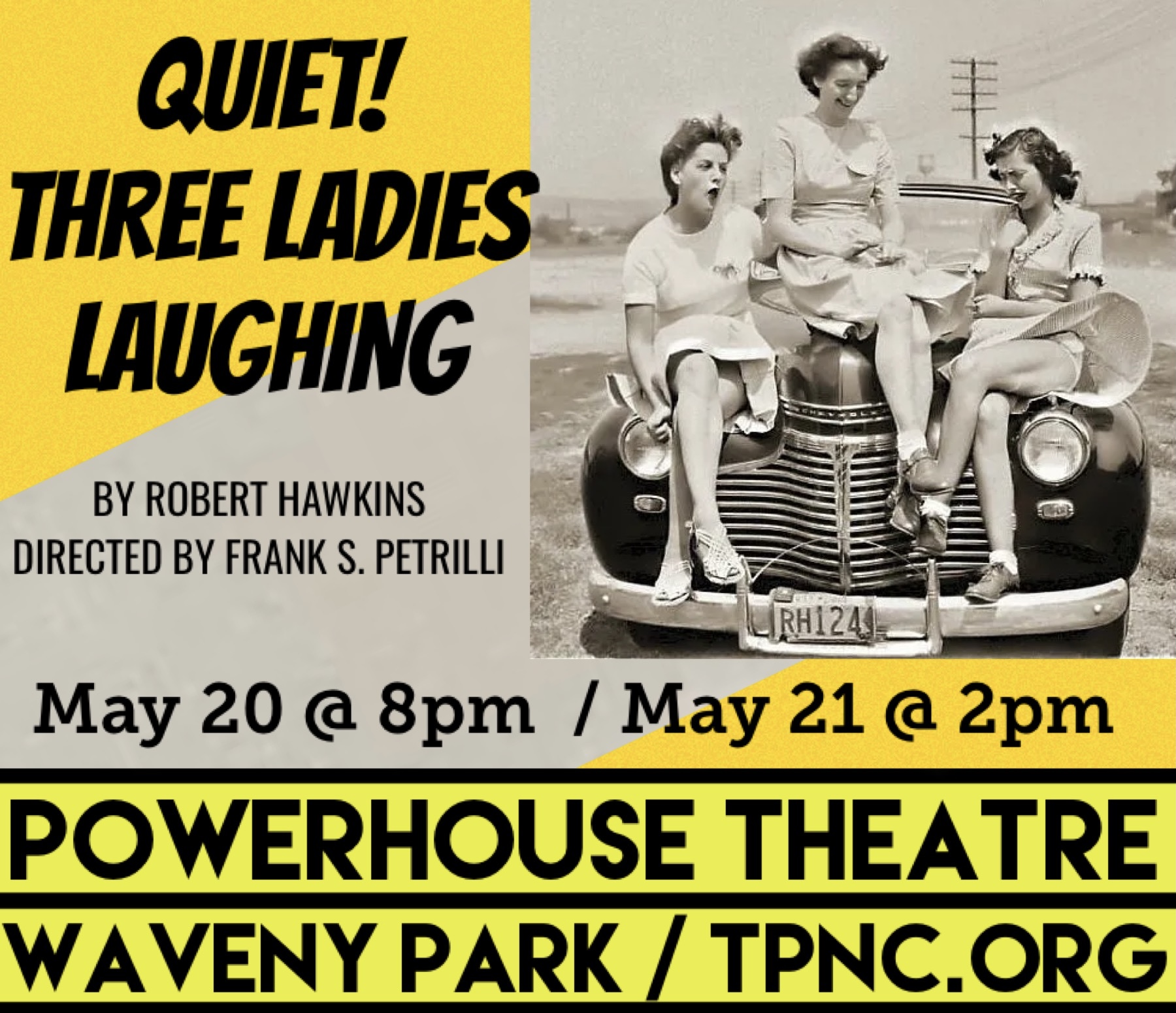 Trust me… you don't want to miss the talent that graces our stage for STAGE II Productions.  
ON MAY 20 & 21…
QUIET! THREE LADIES LAUGHING
by Robert Hawkins
Directed by Frank S. Petrilli
With:  Ann Alford, Autumn Raye Arthur, Olivia Lapine, Kimberley Lowden, Betty McCready, Mavis Nemser, and Jeffrey F. Wright II
PLOT:  In the long, hot summer of 1942, in the small Alabama town of Sulligent, Mama Nolan lay dying in her bed. Ada Lou, her youngest daughter, summons Lottie, the older sister in Chicago, and Eva, the middle sister in Mobile, to rally at Mama's bedside. There, with Mama's cantankerous sister, Edna, along with Miss White, a family-retainer who hails from the Appalachian Mountains, is where Mama Nolan spends her final moments on earth. Mama has only a few hours left as Lottie, Eva, and Ada Lou gather on the sleeping porch to spend the evening awaiting their brother Earle's late return from an Army Boot Camp. The play, written by Robert Hawkins, is a bitter-sweet, semi-biographical story rooted in sentiment, humor, and pathos that speaks to a contemporary audience and their sensibilities.
Suggested donation at the door:  $10
What is Stage II?
In addition to our five mainstage shows each season, STAGE II provides a showcase of staged readings (often with Equity actors) of new or existing works by both local and well-known playwrights under the guidance of our Stage II program director, Frank S. Petrilli.
You don't want to miss the talent that graces our stage for STAGE II Productions, so email us at: info@tpnc.org to get on our mailing list! 
All Stage II readings are at the Powerhouse Theatre in Waveny Park.