TWO NOVEMBER IMPROV WORKSHOPS TO JOIN FOR ADULTS (age 14+)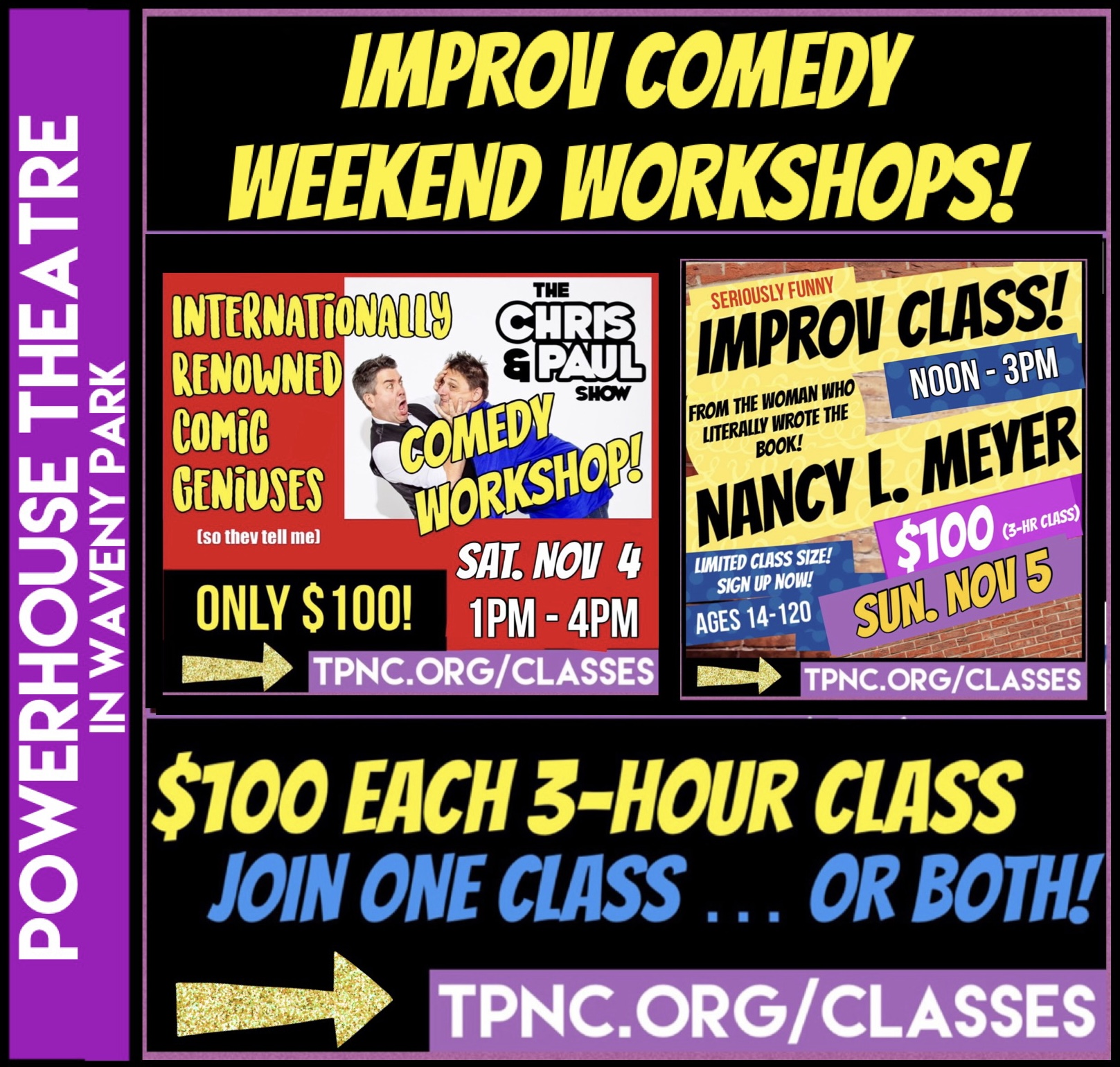 TWO IMPROV WORKSHOPS!
ONE WEEKEND!
SAT. NOV 4
(1pm – 4pm)
SUN. NOV 5
(Noon – 3pm)
$100. each workshop
Sign up for one or both!

LIMITED CLASS SIZES!
COMEDY WORKSHOP with CHRIS & PAUL
SATURDAY, NOV 4 from 1PM - 4PM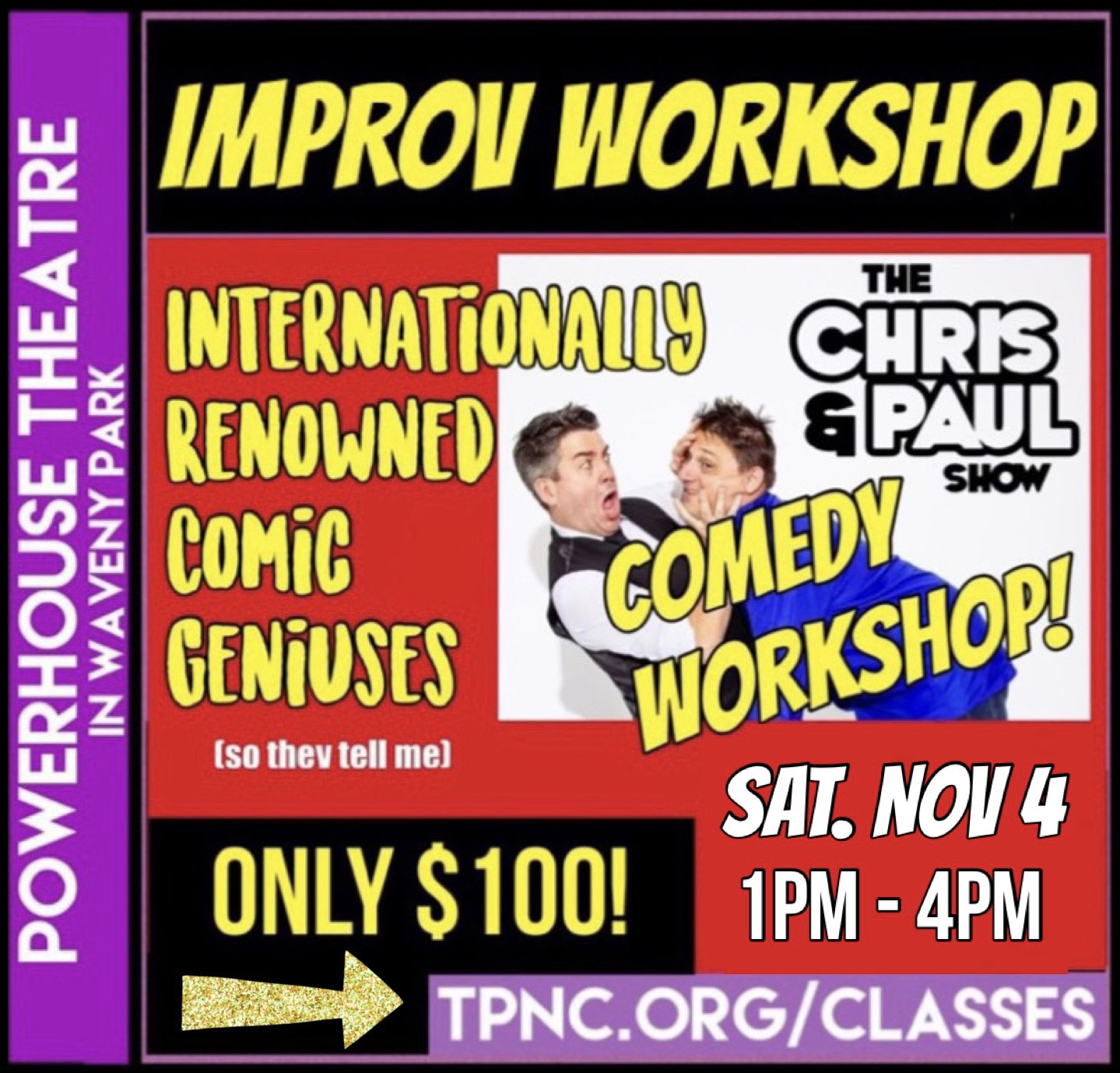 The Chris & Paul Show workshop is a one day experience based on the extensive training that Chris and Paul adapted from clowning and pantomime. Chris and Paul concentrate on the importance of physicality in the character and how it can mold them. Also, using the silence of the stage as an advantage and building tension. Chris and Paul will guide you through the stages of crafting a performance for improvisation and sketch. We'll teach you how to build a scene from the ground up, how to get a laugh without saying a word, how music transforms scenes, the power of silence, finding your inner clown, and much more.
★ Authenticity – Tap into familiar emotions and moments. Able to connect with the audience. Make them feel what you are feeling.
★ Grounded characters – Play with a scene rooted in reality. Living in the moment and having true reactions to the action around the scene.
★ Layering a scene – From start to finish we consistently add to the scene to make it more compelling through emotions, relationships and environment.
★ Physical awareness – The importance of knowing where you are can have an impact on your character. Use what the environment gives you and see how the scene develops.
★ Storytelling through physicality – Dialogue doesn't always tell the whole story. Showing how you feel and how you move through a scene provides character depth.

CHRIS & PAUL - COMEDY WORKSHOP TEACHERS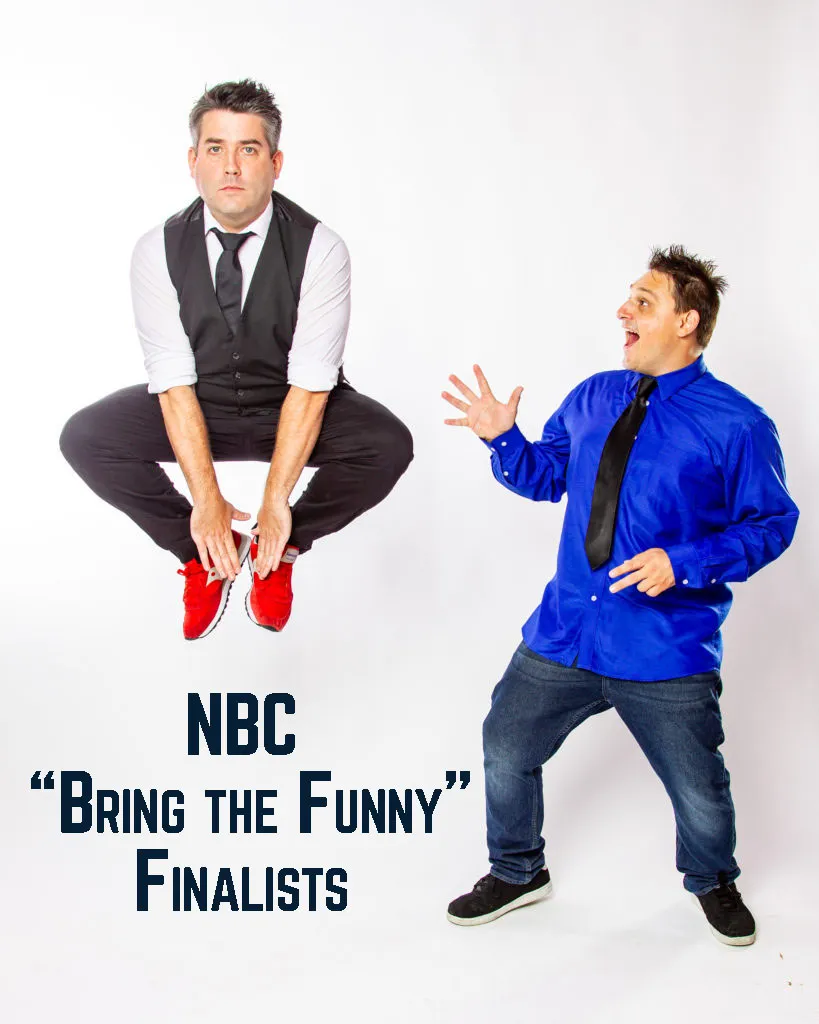 CLASS IS TAUGHT by international sketch comedy award winners Chris O'Neill and Paul Valenti of "The Chris and Paul Show," this is a physical comedy workshop for performers of any skill level – from beginner to expert. Prepare to explore the world of improv and sketch while being pushed to take greater risks in your acting. Classes focus on physicality, building an environment, trusting your fellow scene partner, self-editing, embracing silence, character creation, taking big chances and overcoming a fear of failure. Chris and Paul will equip you with the tools to think outside of the box in the world of improv, clowning, sketch and beyond.
BIOS
Christopher John O'Neill is a comedian and Broadway actor, best known for playing the role of Elder Arnold Cunningham in the musical The Book of Mormon. While performing at the Edinburgh Fringe Festival with his two-man traveling comedy act, The Chris and Paul Show, O'Neill was spotted by a casting director and invited to audition for the role of Elder Cunningham. He won the 2015 Helen Hayes Award for Outstanding Lead Actor for the role, during the show's run at The Kennedy Center.
Paul Valenti is a seasoned performer, writer and improviser in New York City. He has had the opportunity to perform throughout the US and in the UK. Paul also has directed numerous short plays and sketches and is an Improv coach as well. Winner of Best Actor at the NYTV Festival for the pilot of The Chris and Paul Show and Best Newcomer at The Montreal Sketch Festival. Nominated for Best Newcomer at The Edinburgh Fringe Festival and proud alumnus of Second City NYC.
IMPROV WORKSHOP with NANCY L. MEYER
SUNDAY, Nov 5 from Noon - 3pm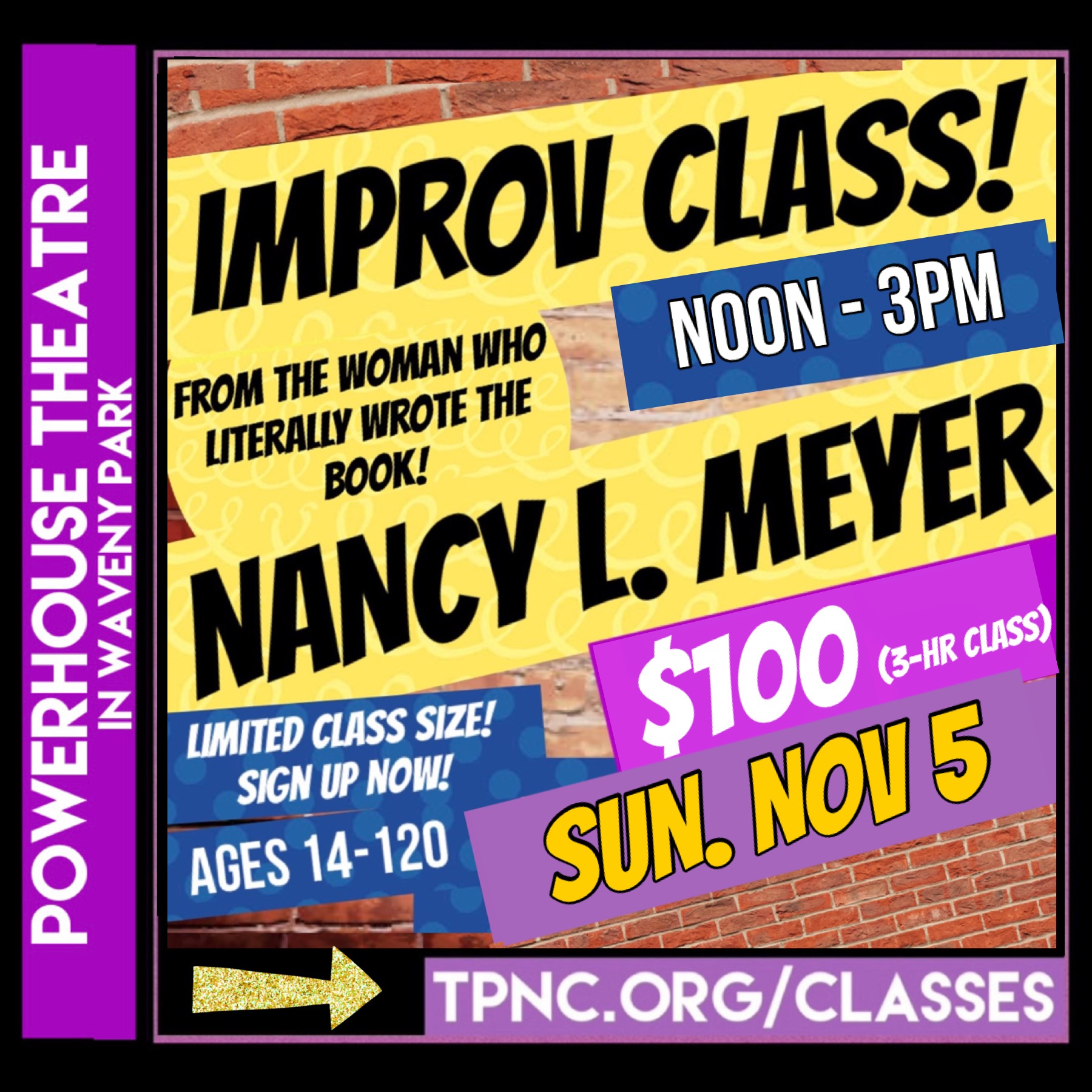 What's gonna happen in this class?  Nobody knows!  It's IMPROV! But what we DO know is it's a riot a minute, and all students will have a blast!  Nancy is an incredible facilitator, making sure not a moment goes to waste, and everyone feels welcome… whether you're new to improv or want to get back into the action.
Quotes from last session:
"It was a blast!"
"Fabulous class"
"Class was great!"
"Let me know when you do it again"

NANCY L. MEYER - IMPROV TEACHER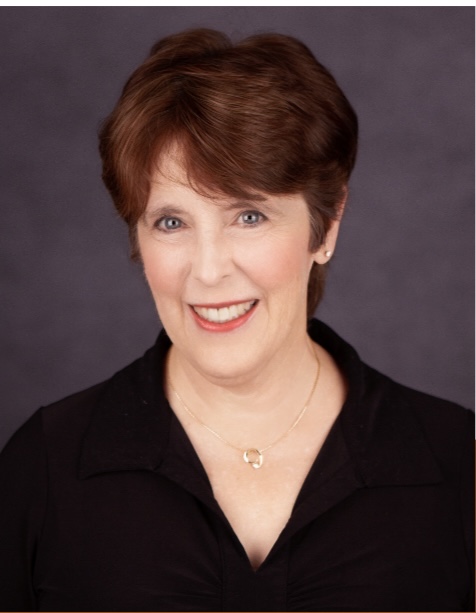 Nancy L. Meyer has been making stuff up her entire life. That's mostly a good thing.
The author of Teaching Improv Skills: Stories, Games, and Tips to Develop Skills for Improvisational Comedy Troupes, Nancy thrives on using improvisation and games to work with groups to improve their improv, communication, storytelling, writing, and pedagogical (teaching stuff) skills. People comment that sessions with Nancy are humorous yet seriously informational, and workshops are hands on and thoroughly engaging.

She has delivered workshops at national conferences, including the Association for Supervision and Curriculum Development (ASCD), American Alliance of Theatre in Education (AATE), National Art Education Association (NAEA), Beyond School Hours (BSH), and the Southeastern Theatre Conference (SETC), and has been the keynote speaker for the Integrated Arts Conference at Plymouth State University and the Kaiser Permanente Educational Theatre Director's National Conference.
Once, when describing her varied career, Nancy's neighbor commented, "Wow. You seem so normal."
Her seemingly normal career includes professional improvisational comedy performer & coach (Laughing Matters, Now This!); classroom teacher; instructional STEAM coach; education director (Laughing Matters, Young Audiences, CWK Network); innovative teaching and learning manager (Crayola); trainer; Master Teaching Artist (Alliance Theatre, Wolf Trap); copyeditor; writer; professional jazz vocalist; artistic director; musical theatre performer; and—most importantly—mom.
ACTING and SCENE STUDY WORKSHOP
SORRY…. FALL SESSION SOLD OUT! TUESDAYS, SEPT 12 through OCT 31 - from 5:30 - 7:00PM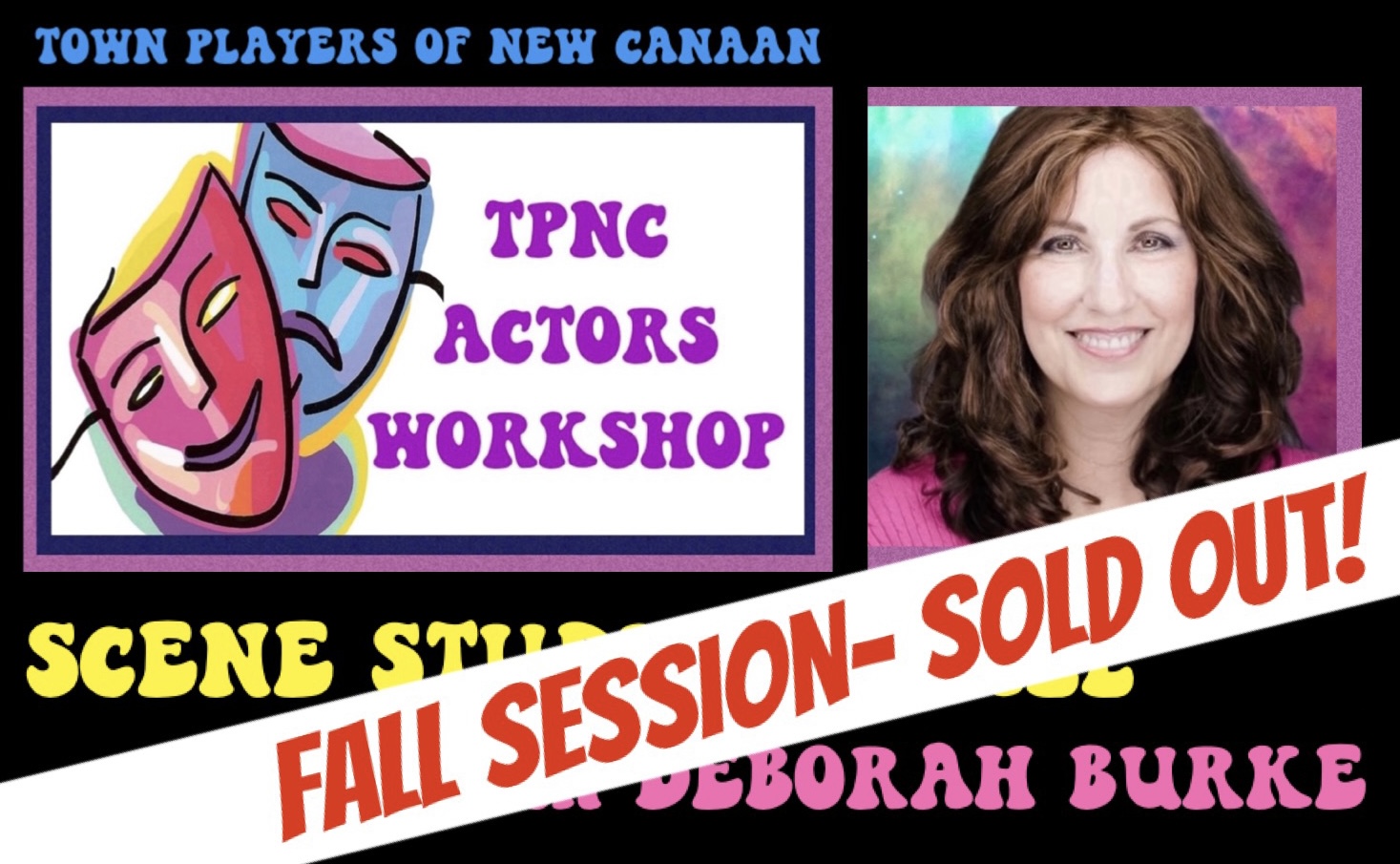 ACTING and SCENE STUDY
CLASS for ALL
Tuesdays (5:30-7:00pm)
8-WEEK CLASS for $245.
SOLD OUT LAST SEMESTER and now THIS SEMESTER!
Limited class size!
Ever wanted to give acting a try? Or want to brush up on your skills with scene and monologue work?  If so, this class is for you!
This class will immediately bring you into the world of character creation through monologues and scene study.  Even if you've never acted before, we will guide you through the basics: drawing on real human interactions, natural conversational tone, and making a scene or monologue come to life.
We have fun, but we make you stretch… to act outside of your comfort zone… as that's the real fun of acting!  Being someone you aren't, or someone you wouldn't dare to be.
COME PLAY WITH US!
i

t's time to get onstage!
AS THE FALL SESSION IS SOLD OUT…… email: INFO@TPNC.ORG if you are interested in future sessions.
ALL INVITED! AGES 16 - 100+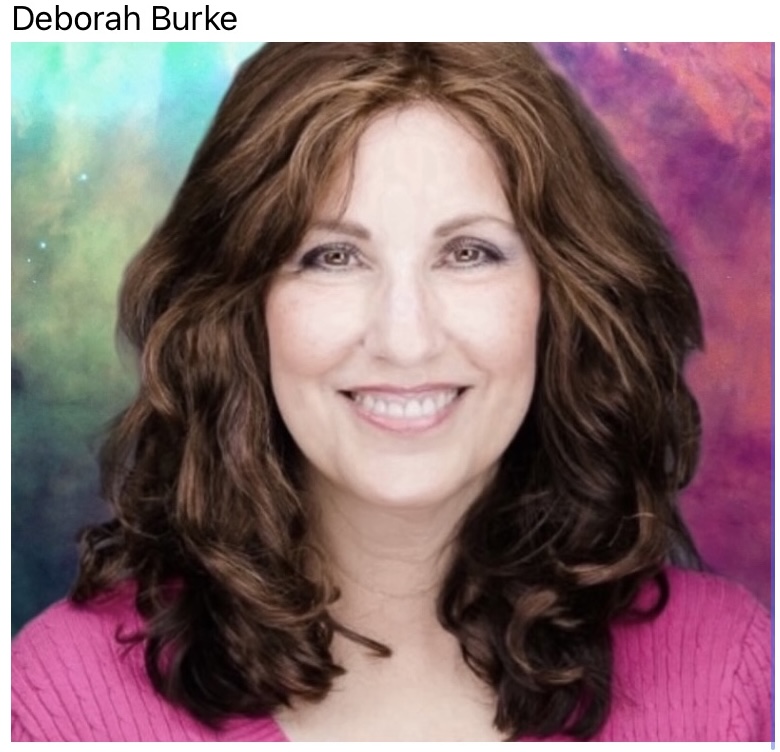 Deborah is a local actress, director, producer, set decorator, costumer, and is currently the Creative Director of Town Players of New Canaan. She's taken many acting classes herself, and has learned something new from each and every teacher. She works with students to make them dig deep to find emotions, attitudes, explore relationships, create characters, develop character biographies, learn the fundamentals of breaking down a script, and the reasons behind a character's movements.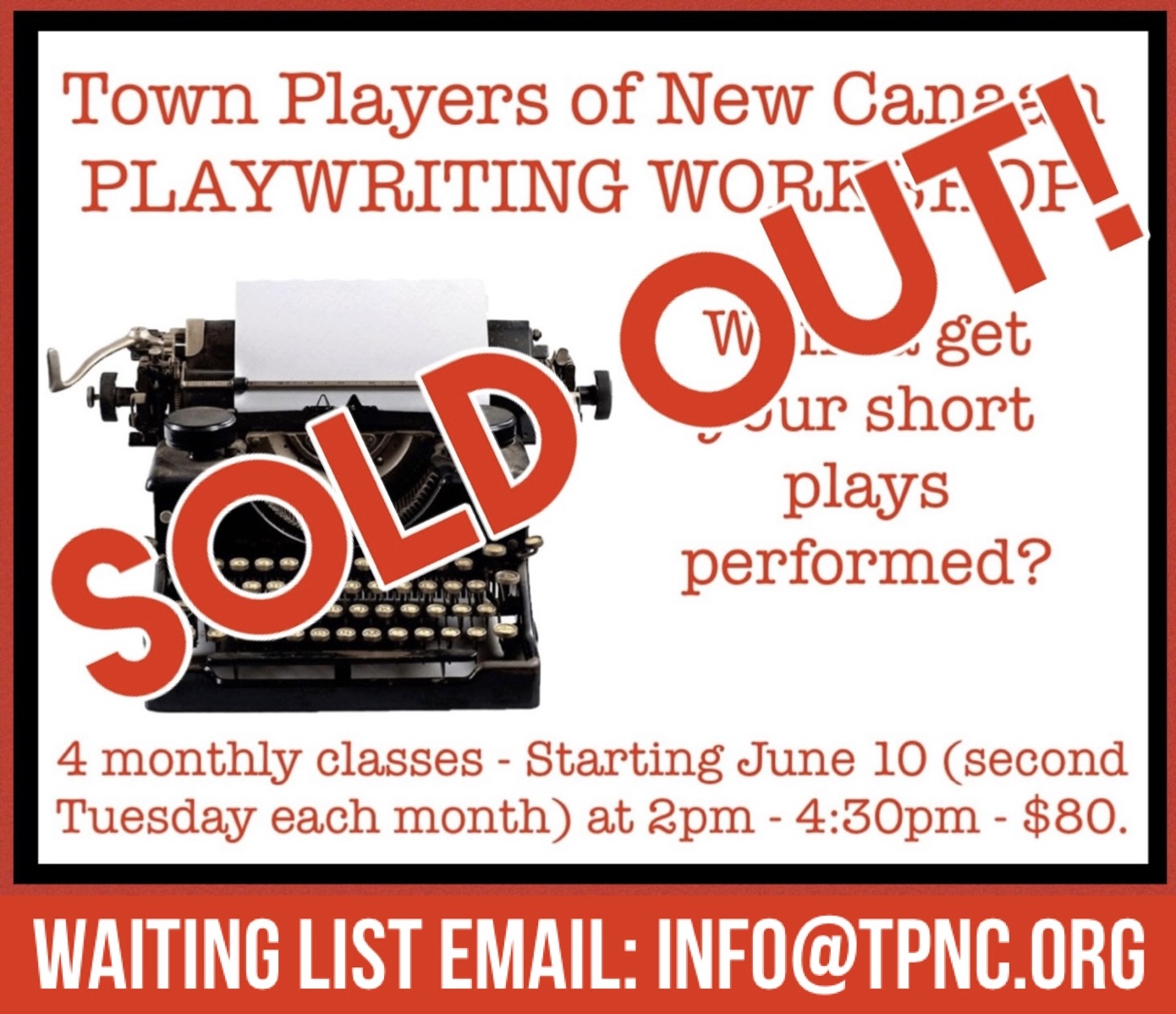 TPNC PLAYWRITING WORKSHOP! 
THIS SESSION IS SOLD OUT.  SIGN UP FOR INFORMATION ON FUTURE CLASSES! 
Wanna get your play reviewed and performed by some terrific actors? 
Here's your chance!  
4-session class (monthly)
for $80 (or $25/session)
Email: info@TPNC.ORG to sign up!
Strictly limited class size!
Monthly classes will start June 10 and meet the second Saturday each month from 2pm – 4:30pm
WORKSHOP:  Writers will work with a pool of actors to develop short plays that are ten minutes or less. These plays will be developed for the opportunity to participate in a short play festival to be produced by The Town Players Of New Canaan.
Limited class size to insure that each writer has an opportunity to present and develop their piece during the four-month session. The sessions will meet once a month on stage at The Town Players of New Canaan's  Powerhouse Theatre in Waveny Park.
The writers who are selected to participate in the Short Play Festival will receive a percentage of the ticket sales from the performances, hopefully to reimburse you for your $80 fees.
Please contact us at info@tpnc.org to let us know if you are interested in other classes in Lighting, Stage Managing, Faux Painting, Working Crew, or other.