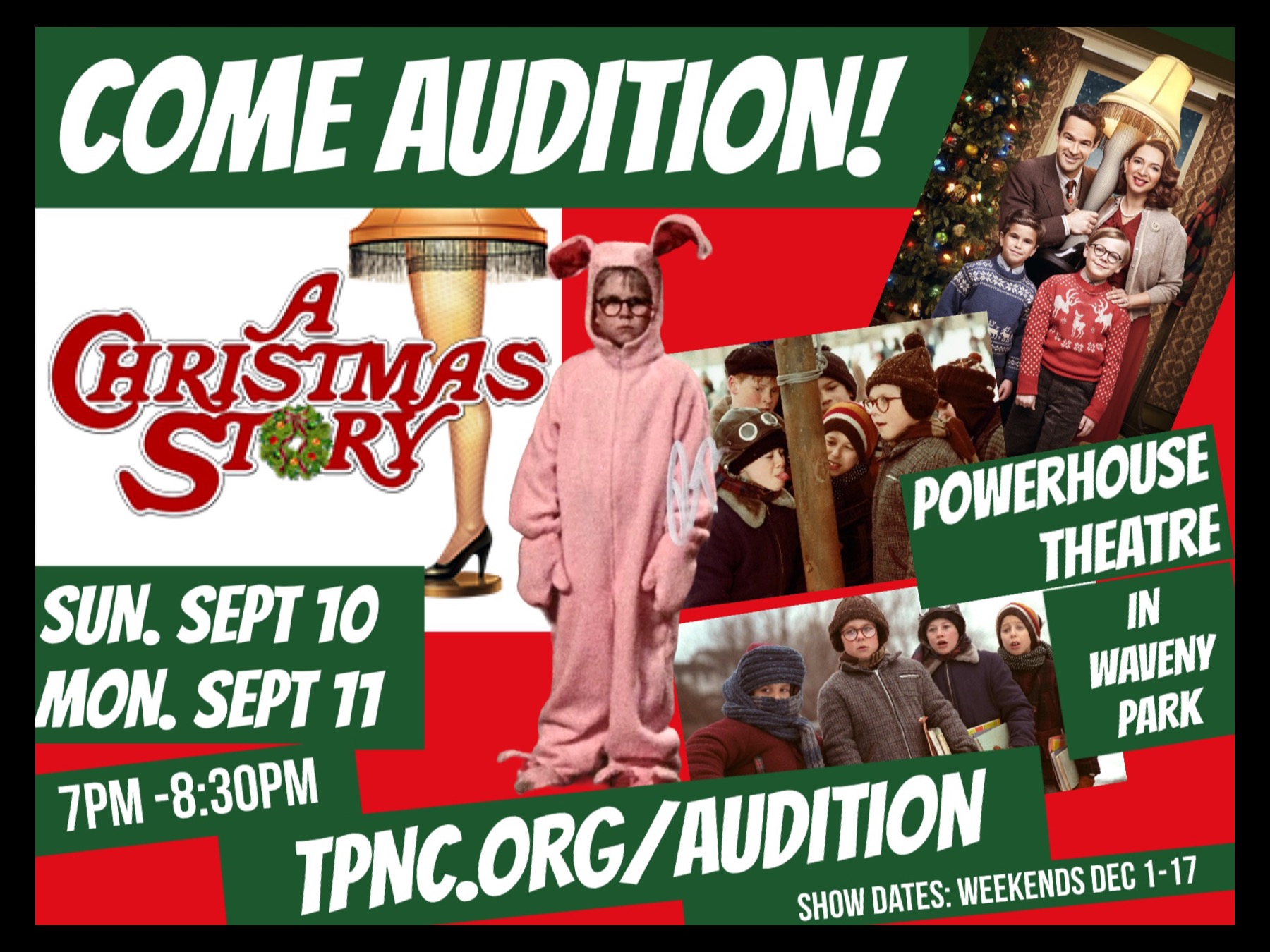 SHOW DATES: weekends Dec 1-17
A CHRISTMAS STORY - AUDITION INFORMATION
All will audition by reading excerpts of the script. Sides will be an available a few weeks prior to auditions.

NOTE: Non-equity (unpaid) show.

NOTE: Auditions may be video recorded to aid in audition process.

Possible callbacks later that week.
NOTE: The show is Directed by Nova Hall, a 4th grade teacher by day, so your kids will be well taken care of!
ALL ROLES OPEN
RALPH PARKER : (M, look 30's - 40's) - Ralphie's older and wiser alter-ego— the future version of himself. Serves as the Narrator of the play. Must be a natural storyteller. He may be an adult, but when telling this story, he is still a child at heart.

MOTHER: (F, look 40's - 50's) - Ralphie's patient mother with firm convictions – in particular, that her son should not own an air rifle. It takes a lot to ruffle her feathers, but the provocative leg lamp that Ralphie's father wins seems to do the trick. She oozes nothing but genuine love and concern for her family.

THE OLD MAN (DAD): (M, look 40's - 50's) - The Parker family's beleaguered patriarch, is a grumpy, good-hearted father with a penchant for highly original (and to the audience's ears profanity-free) outbursts and a deeply held desire to be a winner. Mix of over-the-top anger and genuine love for his family. Thinks he's pretty clever.

MISS SHEILDS : (F, look 30's - 60's) - Ralphie's teacher. Featured in one of Ralphie's fantasies where she is very impressed with his homework. Can be an old fashioned curmudgeon or a strangely vibrant and expressive teacher— seeking a creative character actress!

RALPHIE PARKER: (Boy who can play 8-10) Our young protagonist. Equal parts dreamer and schemer, Ralphie doesn't just covet an air rifle, he also knows (or thinks he knows) exactly how to persuade the adults around him that his cause is a righteous one. He has to be able to react and show the audience what he is thinking while the adult version of himself is speaking.

RANDY: (Kid who can play boy 6 - 8) Ralphie's annoying younger brother. "Oinks" like a pig and eats oatmeal from his bowl as if he were eating out of a trough. He is very whiny and, in a funny way, cries a lot.

FLICK: (Kid who can play boy 8 - 10) - Ralphie's best friend. Flick is the unfortunate guinea pig in the infamous frozen-flagpole-licking experiment. Often times he is picked on by Scut Farkus and gives in easily. Flick and Schwartz are inseparable—kind of like brothers. Also plays a Desperado.

SCHWARTZ: (Kid who can play boy 8 - 10) - Ralphie's best friend. Schwartz becomes the scapegoat when Ralphie accidentally utters a very, very naughty word. Schwartz is a bit of a know-it-all. Schwartz and Flick are inseparable— kind of like brothers. Also plays a Desperado.

ESTHER JANE ALBERRY: (Kid who can play girl 8 - 10) - Ralphie's classmate. She is extremely shy and has a huge crush on Ralphie— but she's too afraid to even talk to him! She giggles a lot and is best friends with Helen Weathers.

HELEN WEATHERS: (Kid who can play girl 8 - 10) - Ralphie's classmate. Something of a child prodigy. One of those really smart kids that seem to know everything. She is confident and a natural leader. Best friends with Esther Jane Alberry and giggles a lot just like her.

SCUT FARKUS: (Kid who can play boy 10 - 12) - Old-fashioned schoolyard bully who routinely torments Ralphie and his friends. Must have an evil laugh/cackle. Partakes in a "mildly-violent" schoolyard fight with Ralphie which results in his own nosebleed. Responsible for "hurting" Flick's arm. Actor will be taught very basic stage combat. Also plays Black Bart.

SANTA CLAUS - Yup, we are seeking an actor to play Santa both in the play, and also in our lobby after the matinee shows. Would be great if the beard was real, but not necessary.

ALSO MULTIPLE NON-SPEAKING ROLES FOR KIDS!!
ANY QUESTIONS? Email: INFO@TPNC.ORG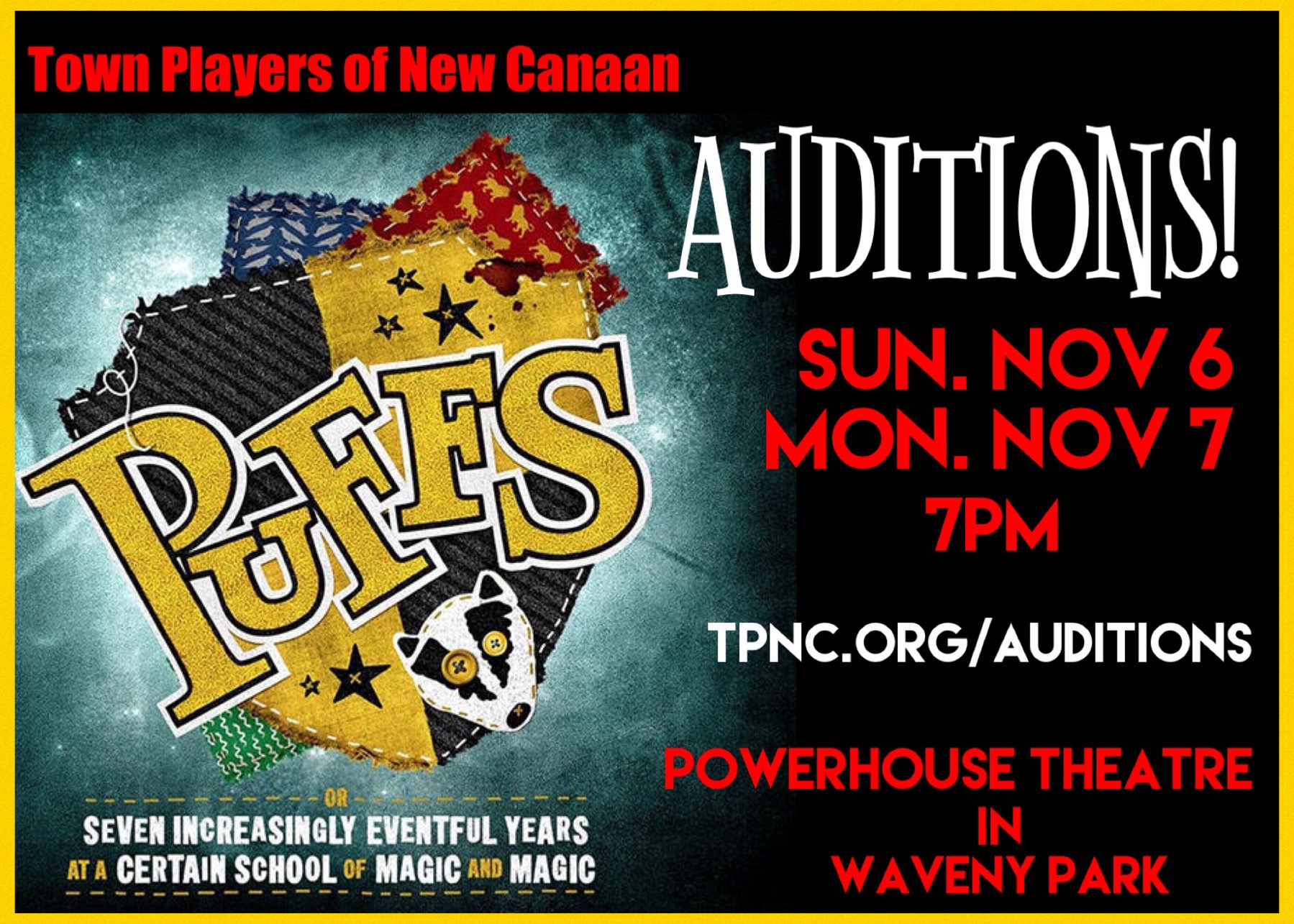 SHOW DATES: weekends FEB 23 - MARCH 10
PUFFS - AUDITION INFORMATION
All will audition by reading excerpts of the script. Sides will be an available a few weeks prior to auditions.

NOTE: Non-equity (unpaid) show.

NOTE: Auditions may be video recorded to aid in audition process.

Possible callbacks - Sat. Nov 11 at 2pm
ALL ROLES OPEN
WAYNE HOPKINS
The hero. From the United States; some regional accent is fine but not necessary. Totally uncool, but full of charm and heart. Loyal to a tee. Likes comic books and video games, knows nothing about magic or this weird magic world he is now a part of. Best friends with Oliver and Megan.

OLIVER RIVERS
One of the main trio. Incredibly smart and cerebral, he is a math wiz, and proud of it; lovingly a nerd from New Jersey. After ending up at wizarding school, he finds out he isn't the top of his class, and instead begins a fantastical journey of friendship and even some love, better than any algebra class could ever promise. Real comic chops, incredibly appealing, youthful. Best friends with Wayne and, eventually, in love with Megan.

MEGAN JONES
One of the main trio; begins the show by only desiring to live up to her mother's reputation: a dark wizard currently in Wiz Priz for being such a bad-ass Death Buddy in her youth. Favorite store: Hot Topic. Favorite color: black. Over time, her tough veneer begins to soften, as a budding romance with Oliver becomes apparent. Defiant and headstrong on the surface, the audience begins to see that her adamance of being completely unique and independent really stems from her desire to be loved and accepted. Any ethnicity/cultural background. Eventually becomes best friends with Wayne and falls in love with Oliver.

NARRATOR
The narrator of the story. Guides us through our entire show of Puffy-ness. British accent. Must be a great storyteller who must keep the audience engaged and updated on all the goings-on. Can be a bit of a know-it-all, but still relatable and appealing. Comedy skills a must, improv background is a plus. Actually, improv is a must. 

ERNIE MAC and A VERY TALL MAN / SEAMUS / A CERTAIN POTIONS TEACHER / PROFESSOR TURBAN / GHOST HISTORY TEACH / PROFESSOR LOCKY / MR. NICK / SAL / SECOND HEADMASTER / REAL MR. MOODY
Requires an actor capable of doing strong impressions of the movie versions of those characters (Impressions: Rickman/ Branagh/Gleeson/Whoever played Quirrell in the movie). Ernie Mac: Proud. Loud. Pretty sure he's the best. Male Teachers: Potions Teacher/ Locky/ Professor Turban/ Mr. Moody. All impressions. Strong comedic ability.

HANNAH and FIRST HEADMASTER / PROFESSOR McG / PROFESSOR PLANTS/SPROUTTY / XAVIA JONES / PROFESSOR LANNY / RUNES TEACH / MS. BABBLE
Requires playing several different roles back to back, so the ability to play a variety of character types a plus. Hannah: Shy. Very shy. Female Teachers: Professor McG, Professor Plants, Professor T, Bath Babbles. Adults of all kinds of different personalities. (Maggie Smith impression for McG.)

J. FINCH FLETCHLEY and UNCLE DAVE / GOYLE / A FAT FRIAR / CLUMSY LONGBOTTOM / HERMEOONE #3 / VIKTOR / MR. BAGMAN / ZACH SMITH
Improvisational skills a MUST for the Zach Smith role. Finch: Boyish & fun. Chipper and happy except when his life is in mortal danger. Uncle Dave: Texas accent. Goyle: Impressively dumb.  Longbottom: impression of Neville. 

LEANNE and GINNY / HELGA / FRENCHY
A little distant. A little random. Is possibly a genius or really, really stupid. But has a really strong heart. The Puffiest of the Puffs. Any ethnicity/cultural background.

SALLY PERKS and HERMEOONE / BLONDO MALFOY / ROWENA / RITA SCOOTER / BIPPY
Sally: Nice. In year 3, goes through a bit of a growth spurt that attracts the other student's attention, if you know what I mean. Bippy: A house elf. Devoted. Loyal. Kind of annoying.

SUSIE BONES and HARRY / COLIN / HERMEOONE #2 / RIC GRYFF / MYRTLE
Susie: Sad. Gloomy. Think Eeyore from "Winnie the Pooh." Constantly in fear of her or her family dying. Harry: Young, plucky, and famous. Struts around school like he owns it. Gets into a few wacky situations, but it's nothing the bonds of friendship can't overcome. Myrtle: Giggly and flirty and ghostly and sexually repressed.

CEDRIC and MR. VOLDY
An appealing comic actor to play the pivotal roles of Cedric in Act I and Mr. Voldy in Act II. Cedric: A champion. Athletic, winning, popular, and charming. Everyone's favorite, but still loyal, patient, and kind. A leading example of a Puff. Mr. Voldy: Evil. Like, reeeaaally evil. Wants to rule the world in shadows and darkness and terror. (Or, ya know, just an amazing Ralph Fiennes impression.)
ANY QUESTIONS? Email: INFO@TPNC.ORG