DROP DEAD (A Murder Mystery Comedy)
FULL AUDITIONS! SUNDAY and MONDAY - JANUARY 8 & 9 at 7 PM (though we will be there by 6PM if you need to come early!) at Powerhouse Theatre in Waveny Park, New Canaan. ALL ROLES OPEN!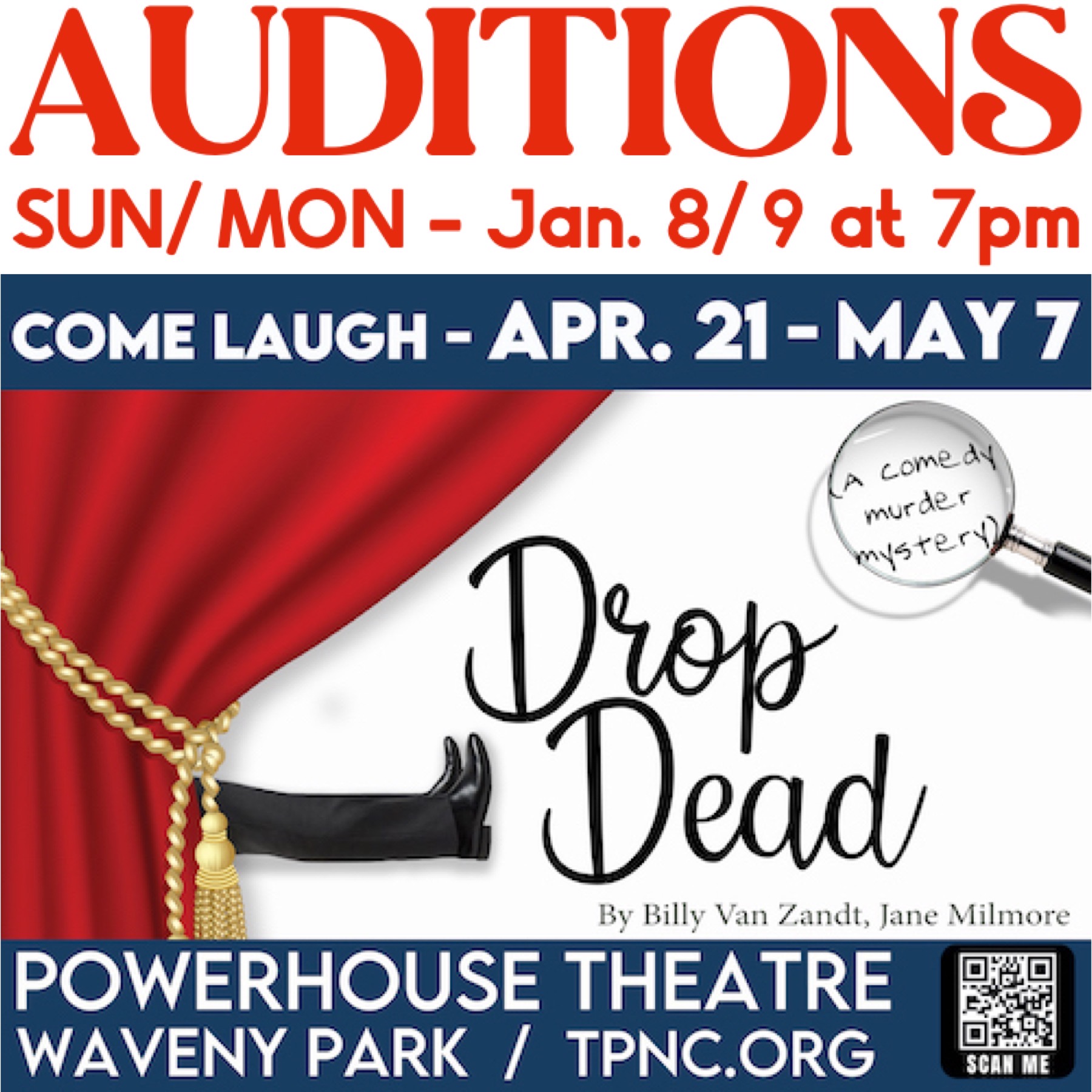 DIRECTED BY: ROB NICHOLS
ROLES:
PHILIP FEY: (Male – age 20-45s) The Stage Manager who is all-too devoted to the Director
VICTOR Le PEWE: (Male – age 40-60s) The eccentric and once golden boy director of Broadway who is looking for one more hit.
SOL WEISENHEIMER/ PG "Piggy" BANKS: (Male – age 30-60s) The Silmy and deceitful producer who cuts every corner.
CONSTANCE CRAWFORD: (Female – age 50+) The Old Stage Star. Emphasis on old.
CANDY APPLES: (Female – age 20-35) The Producer's lovely, clueless girlfriend who prior worked in adult entertainment
MONA MONET: (Female – age 30-50) The once great diva TV Star who refused to admit she has lost her star power.
CHAZ LOONEY: (Male – age 20-35) The first-time actor looking for his big break
DICK/DEBBIE SHALIT/SCORSESE: (Male or Female – age 30-50s) Famous person's relative and a TV technician who is a last-minute replacement for one of the cast.
BRENT REYNOLDS: (Male – age 30-50s) The "classically trained" regional theater method actor who plays each scene to its fullest.
ALABAMA MILLER: (Male or Female – age 30-50) The Playwright who is trying to protect the 500 page script that she has written from further changes and cuts.
PLOT: 
"Drop Dead!" is a play about a bad stage production, similar to "The Play That Goes Wrong" or "Play On". Most of the action takes place on a stage that has to be transformed to resemble the low-budget "off-off-off-off Broadway" stage called for in the script.
The stage, which is said to have been created on a $35 budget, is complete with uneven walls and defective props. Even the furniture is painted into the background.
At Town Players of New Canaan, we're so used to doing all the little things that make a set look really good, this is gonna be a challenge to continually remind ourselves NOT to do those things, and rather to make the set look the part!
No appointments needed… just come audition!  All you need is your talent, and enthusiasm.