JOYFUL NOISE - SHOW DATES: NOV. 18-DEC 4
AUDITIONS: August 8, 14, 15 and August 21, 22 (if necessary) at 7PM at the Powerhouse Theatre in Waveny Park, New Canaan. - PLEASE NOTE!!! ALL THOSE WHO AUDITION MUST BE FULLY VACCINATED.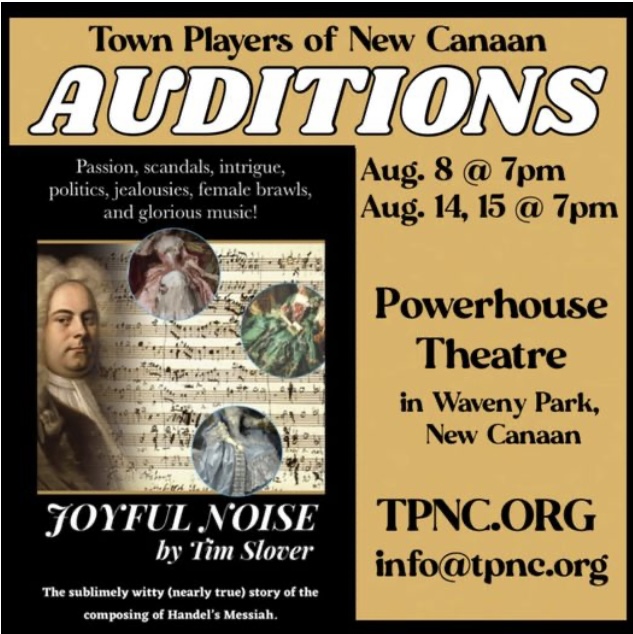 GEORGE FREDERICK HANDEL –
LEAD ROLE (age to pass for late 50's) Male – A heavy man but by no means lugubrious, Handel speaks with a slight German accent, has a sardonic sense of humor, a passion for good music, and high appreciation for excellent musicianship. VOCAL PART: Spoken, Tenor or Bass
SONGS: Chorus: "Hallelujah".
KITTY CLIVE –
LEAD ROLE (age to pass for early 30's) Female – Singing actress, Drury Lane Theatre
Kitty is pretty, cocksure, and extremely tough. She is street smart rather than highly educated, speaks in Cockney when emotional, and has a killer voice—and temper. She hates Susannah with a passion.
'Kitty' Clive (1711-1785, active 1728-1769) was a first songster and star comedienne of British playhouse entertainment. Clive led and created new forms of English musical theatre. VOCAL PART: Spoken, Soprano
SONGS: Solos: "How Beautiful Are the Feet," "Come unto Him" Chorus: "Hallelujah".
SUSANNAH MARIA CIBBER –
LEAD ROLE (age to pass for late 20's) Female – Singing actress, formerly of Drury Lane Theatre
VOCAL PART: Spoken, Mezzo-Soprano
Beautiful and frail, Susannah's reputation has been ruined by circumstances beyond her control, affecting her confidence, career, health, and personal life. Still, she persists. It was said Cibber sang with simple sweetness and feeling, both of which appealed to Handel's musical sensibilities.
Susannah Maria Cibber (née Arne; February 1714 – 30 January 1766) was a celebrated English singer and actress. VOCAL PART: Spoken, Mezzo-Soprano
SONGS: Solo:"Sing unto God," "Coventry Carol," "He was Despised and Rejected" Chorus: "Hallelujah".
MARY PERDARVES –
LEAD ROLE (age to pas for early 40's) Female – Music patron
The twice widowed 18th-century Englishwoman thrived in her middle-age as a social butterfly, amateur artist, and trusted authority on everything from court fashion to natural science. She is well dressed, kindly, and at times seems batty—but don't fall for it.
VOCAL PART: Spoken, Alto
SONGS: Chorus: "Hallelujah".
KING GEORGE III –
Supporting Role (age to pass for late 50's) Male – King of England
Passionate, volatile, not educated but always striving to learn more, King George grieves the loss of his beloved wife, Caroline. He has a good sense of humor and a strong sense of honor.
VOCAL PART: Spoken, Tenor or Bass
SONGS: Chorus: "Hallelujah".
BISHOP HENRY EGERTON –
Supporting Role (age to pass for mid-30s) Male – Clerk of the Closet for the Royal Household
Egerton is educated, pompous, and inflexible in his beliefs and practices. He despises Handel.
VOCAL PART: Spoken, Tenor or Bass
SONGS: Chorus: "Hallelujah".
CHARLES JENNENS –
Supporting Role (age to pass for early 40's) Male – Squire of Gospel, librettist of Messiah
Jennens is extremely religious, meticulous, and insensitive to all others' feelings and practices. He is a non-juror (one who refuses to swear an oath to royalty).
VOCAL PART: Spoken, Tenor or Bass (pending other casting)
SONGS: Solo: Opening verse to "All We Like Sheep" Chorus: "Hallelujah".
JOHN CHRISTOPHER SMITH –
Supporting Role (age to pass for late 40's) Male – Business manager, amanuensis for Handel
Smith is quiet, efficient, and witty. Quietly and with good intentions, Smith both manages and manipulates Handel to do what is best.
VOCAL PART: Spoken, Tenor or Bass
SONGS: Chorus: "Hallelujah".
PLOT
A joyful play that "hits all the right notes"! Clever and funny as well as inspiring. If you love Handel's Messiah, this play is a MUST SEE! This play has the feel of a juicy soap opera, with dueling diva sopranos, a plot combining religious protest, political alienation, social humiliation, and a sex scandal. Based on actual historical facts, George Frederick Handel is in trouble: his last opera flopped, he is no longer in favor with King George II and preachers are raging that his latest work is blasphemous. In this climate, he struggles to present "The Messiah." Handel's travails are linked with those of his leading soprano. Forced into retirement because of a scandal, she is slated to make her comeback in his new masterpiece and fears a nasty reception. A malicious, back stabbing alternate is waiting in the wings to replace her. A devious bishop and Handel's bulky librettist add to the conflict in this true story of the politics and passion that nearly prevented "The Messiah" from ever being performed.
Email us at: info@tpnc.org for all future Town Players of New Canaan updates and/or more audition information including sides when available!
ORDINARY PEOPLE - SHOW DATES: FEB. 17 - MAR 5
FIRST ROUND OF AUDITIONS - Sun., August 28, and Mon., August 29 at 7PM at the Powerhouse Theatre in Waveny Park, New Canaan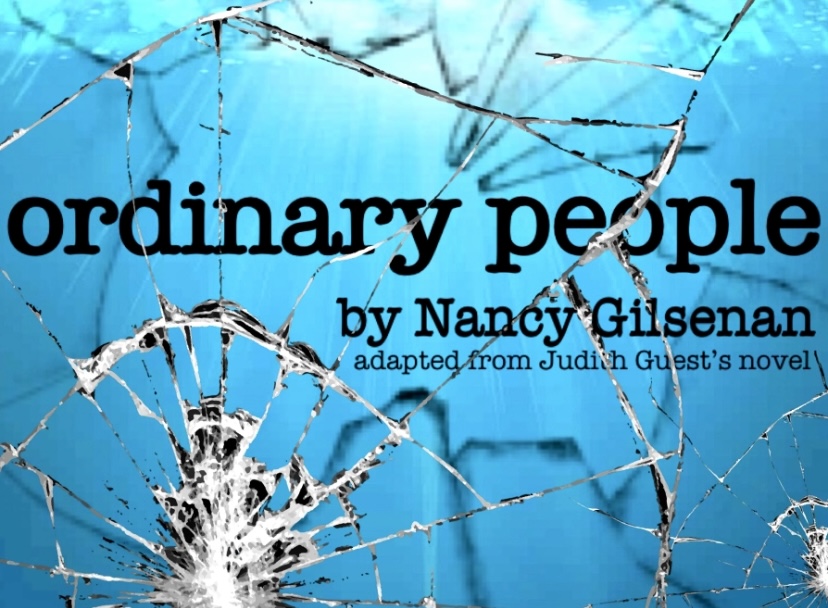 CAST: This play requires three older teenage boys, two older teenage girls as well as four adults. We will be casting early to find a talented young cast.
CONRAD JARRETT: The play's protagonist – able to play age 17-18. The son of Calvin and Beth. About 18 months before the play begins, he was involved in a boating accident with his brother, Buck, an accident which left Buck dead. A year later, Conrad tried to commit suicide but failed, forcing him to spend time in hospital. At the beginning of the play, he has been out of the hospital for a month. He is trying to get his life back on track, but he feels little purpose in life and no motivation. He begins to see Dr. Berger to help him recover from the traumatic events he has experienced. Over the course of the play, he begins a steady relationship with Jeannine Pratt and rebuilds some of his old friendships. Part requires excellent actor with depth of feeling.
CAL JARRETT: Conrad's father – age 40+ – Calvin is a natural listener. He tends to blame himself for most negative things that occur in his family. He works as a tax attorney, a prestigious position for a man who grew up in an orphanage. He believes that there is a serious lack of communication between him and his wife, which strains their relationship. He spends most of his time worrying about his son.
BETH JARRETT: Conrad's mother – age 40+ – Beth is a complex character, often mysterious and cold though the reason why is not entirely revealed. She spends most of her time playing golf and working around the home. Although she is troubled by the horrible events she has experienced with her sons, she wants to move on without dwelling on the past at all, an attitude that brings her into conflict with Calvin, who thinks that the family needs to talk through the past. At the end of the play, she leaves Calvin and Conrad for an indefinite period, although there is no talk of an official divorce.
JOE LAZENBY: Conrad's best friend – able to play age 17-18 – A friend and member of the swimming team. He drives Conrad to school each day. He and Conrad have a falling out during the course of the novel, but they manage to mend their relationship.
KEVIN STILLMAN: Conrad's swim team acquaintance – able to play age 17-18 – He is a member of the swimming team. A kid who can be very cruel to Conrad.
JEANNINE PRATT: Conrad's girlfriend – able to play age 17-18 – A new student at school, she is in the school choir with Conrad. She and Conrad become close friends and begin to date seriously, forming a deep relationship by the end of the play.
KAREN ALDRICH : Conrad's hospital acquaintance – able to play age 16-19 – Complex character. She is an outwardly very optimistic person who gives Conrad strength. Towards the end of the play, Conrad learns that she has committed suicide, and the news sends him into shock.
Dr. BERGER: Conrad's psychiatrist – Male age 40+ – A very relaxed psychiatrist with whom Conrad begins meeting once a week in an effort to gain more "control." He becomes a trusted "friend" and helps both father and son come to grips with the difficult family dynamics.
COACH SALAN: The swimming coach – Male age 30+ – He is a generous man who wants to see Conrad do well, and he is disappointed when Conrad quits the team.
PLOT/ INFO
BASIC DESCRIPTION: This play is based on the Oscar Winning Best Picture movie starring Donald Sutherland, Mary Tyler Moore, and Timothy Hutton by first-time Director, Robert Redford. It play explores the essence of a young man, his friends and family, their relationships and ultimately survival.
PLOT: Conrad Jarrett had an older brother named Buck, and now Buck is gone due to a boating accident. What's left of young Conrad's family, with his successful, well-intentioned father and his beautiful, organized and remote mother, is in terrible jeopardy, as is Conrad himself. They are all "ordinary people" and each is fighting a hard battle and this powerful play goes to the root of their relationships. This play is still timely and relevant… exploring teen suicide and mental health. The story ends on a positive note… as life goes on and the fog of despair lifts.